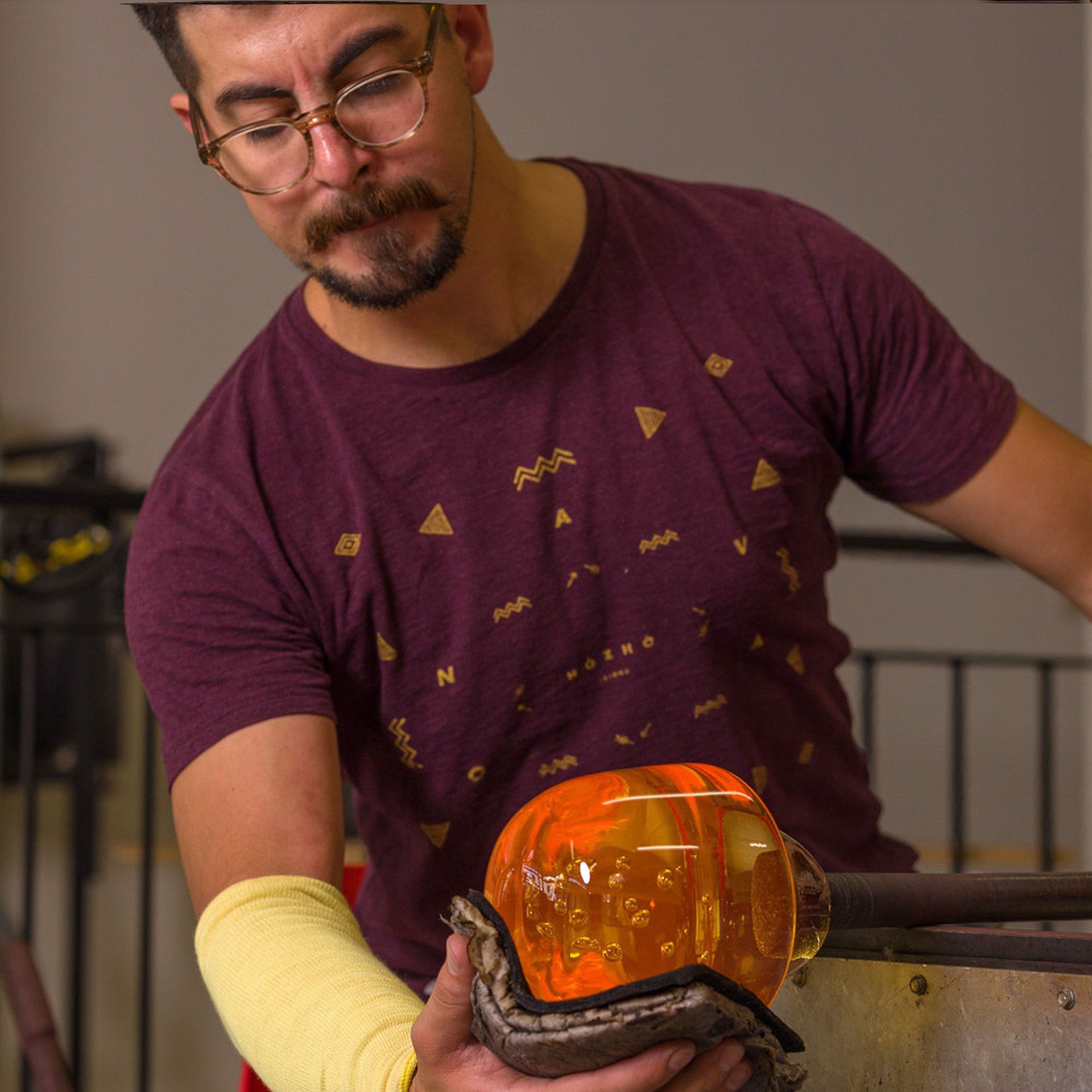 Dylan's artwork explores the boundaries of human perception through the manipulation of light, space, and the physical properties of glass. Dylan's fascination with glass began as an elective in college after taking an introductory art course. Martinez studied the physical sciences for his major and outdoor education as a minor. His curiosity about the natural world and the intricacies of how it all operated fascinated him. Understanding just how to control molten glass became a major focus for several years of his practice.
After training with several notable artists around the world, Dylan gained the technical skills to master the material. His interests shifted from how the world operated to focusing on how one perceives it. Martinez's latest body of work explores techniques in which the viewer is presented with objects which trick the eye, Trompe L'oeil, or use the reflective and refractive properties of glass in configurations that fracture light in dynamic styles, allowing the viewer a moment of playful exploration.
Dylan Martinez earned his MFA in Glass at Ball State University, Muncie, Indiana. He has studied with master craftsman across the U.S. and abroad. Most recently Dylan completed a month-long residency working with Venetian glass masters in Murano, Italy. His sculptures are sought after internationally with exhibitions in the United States, Italy, France, Switzerland, The Netherlands, Taiwan, and Singapore. His artwork has been featured in several publications such as Elle Decoration UK, American Craft Magazine, Interior Design Magazine, and Aesthetica Magazine to name a few.
Awards
2018 Enrico Bersellini Award, Milano Vetro -35, Milan, IT
2017 Stanislav Libenský Award, Prague, CZ
2017 Full Scholarship to Pilchuck Glass School, Stanwood, WA
2017 Full Scholarship to Pittsburgh Glass Center, Pittsburgh, PA
2017 Shortlisted Artist, Aesthetica Art Prize, York, UK
2017 Finalist, 2017 Niche Awards
2016 First Prize, Pittsburgh Glass Center's Art on Fire, Pittsburgh, PA
2016 Honorable Mention, International Student Online Exhibition, Corning, NY
2016 First Prize, Glass Art Society International Student Exhibition, Corning, NY
2016 Marylin K. Glick Center for Glass Scholarship, Muncie, IN
2015 Ladd Minshall Scholarship, Muncie, IN
2015 Honorable Mention, Atrium Gallery, Muncie, IN
2014 Best in Show, Awarded by Yvonne Klocek, River Falls, WI
2010 Best in Glass, Duluth Art Fair, Duluth, MN
2010 2nd Prize, Arts West 31, Awarded by Alan William Nugent, Eau Claire, WI
2010 2nd Prize, Minnetonka Juried Exhibition, Minnetonka, MN
2009 Outstanding Student Award, River Falls, WI
2008 Jurors Award, Juried Student Exhibition, Awarded by Tamara Brantmeier, River Falls, WI
Selected Exhibitions
2020 Art Palm Springs, Winterowd Fine Art, Palms Springs, CA
2020 LA Art Show, ArtPlex Gallery, Los Angeles, CA
2020 London Art Fair, Art Blue Studio, London, UK
2020 LA Art Show, Artplex Gallery, Los Angeles, CA
2019 Habatat Prime, Habatat Gallery, Chicago, IL
2019 Boston International Art Show, Bowersock Gallery, Boston, MA
2019 Context, Winterowd Fine Art, Miami, FL
2019 Affordable Art Fair, Battersea, London, UK
2019 Summer Expo, Gallery Ton, Rucphen, Netherlands
2019 Nature Morte, Tory Folliard Gallery, Milwaukee, WI
2019 Milan Design Week 2019, Spinzi Design, Milan, Italy
2019 Hsinchu Art Fair, Bluerider Art, Taipei, Taiwan
2019 Fire and Water, Lyons Wier Gallery, New York, NY
2019 Teapots 13, Morgan Glass Gallery, Pittsburgh, PA
2019 47th Annual International Glass Invitational, Habatat Gallery, Detroit, MI
2019 Affordable Art Fair Hong Kong, Bluerider Art (Taipei, TW) Hong Kong, China
2019 Art New York, Winterowd Fine Art, New York, NY
2019 Urban Show, Next Street Gallery, Paris, France
2019 Circulation, Blue Rider Art, Taipei, Taiwan
2019 Art Palm Springs, Winterowd Fine Art, Palm Springs, CA
2019 Dylan Martinez, New Works, Method & Concept, Naples, FL (solo)
2018 Scope Miami Beach 2018, Modus Gallery (Paris, FR) Miami, FL
2018 Sofa Chicago, Lyons Wier Gallery, Chicago, IL
2018 Plunge, Meyer Vogl Gallery, Charleston, SC
2018 Fake Views, Eutectic Gallery, Portland, OR
2018 Subversion, Modus Gallery, Paris, France
2018 Winter 19/19 Group Show, Galerie Palü, Switzerland
2018 Summer Session No.25, Lyons Weir Gallery, New York, NY
2018 A Persistence of Vision, Echt Gallery, Chicago, IL (solo)
2018 Competition -35, Castello Sforzesco, Milano, Italy
2018 101 Bowls, Osher Gallery, American Swedish Institute, Minneapolis, MN
2017 Art Miami, The Art Miami Pavilion, Miami, FL
2017 SOFA Chicago, Bender Gallery (Ashville, SC), Chicago, IL
2017 Stanislav Libenský Award, Prague, Czech Republic
2017 Aesthetica Art Prize, York, United Kingdom
2017 A Journey to The Edge of Perception, Atrium Gallery, Muncie, IN (solo)
2017 Materials: Hard and Soft, Denton, TX
2016 Craft Forms 2016, Wayne, PA
2016 Gathering: Contemporary Glass from The Heartland, Muncie, IN
2016 Glass Art Society International Student Exhibition, Corning, NY
2016 Conglomerated Combustion, Atrium Gallery, Muncie, IN
2015 Minnetrista Juried Art Show, Muncie, IN
2014 Howard Conn Fine Art Gallery, Minneapolis, MN (two person)
2013 Larson Gallery, University of Minnesota, Minneapolis, MN
Publications:
2019 The Point, Issue 18, pg. 32-47
2017 American Craft Magazine, Vol. 77, No. 5, pg. 12-13
2017 Future Now: 100 Contemporary Artists From The Aesthetica Art Prize, pg. 70-71
2017 Aesthetica Magazine, Issue 76, pg. 116-17
Read More